Aikido for Law Enforcement Tactical Training

Aikido is the authorized defensive tactics system used by the Tokyo Metropolitan Police Department, one of the most highly trained departments in the entire world. Students of Aikido practice how to use their body and mind in a natural and optimally efficient way. Aikido includes many responses to different types of attacks including throws, holds, joint locks, pins, and disarming techniques. Many observers perceive elements of other martial arts when watching an Aikido class; however Aikido has many unique technical features including a particular approach to using movement, timing, and reaction. In the course of practicing its vast number of techniques and situations, Aikido also develops judgment, balance and increased awareness. The techniques in these courses are effective regardless of size or gender. They are also effective against larger, stronger, assaultive, or resistant subjects.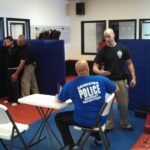 Aikido for Law Enforcement Tactical Training is a set of courses designed to bring a Law Enforcement officer, EMS, security or personal protection professional a basic skill set derived from Aikido principles and techniques for resolving physical confrontations in a manner that is quick, effective and less 'dangerous' for both the officer and the subject. By 'dangerous' we mean both in a physical and a legal sense. Because of the principle of using the least force necessary to neutralize the aggression, Aikido techniques are looked upon more favorably in the courts than some other martial arts when it is necessary to use them on duty. Aikido principles always allow for the subject to have a weapon and always allow for the potential of multiple attackers, again making them very applicable to field operations.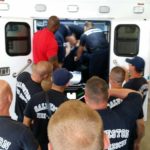 Aikido for Law Enforcement Tactical Training courses include classroom time discussing the force continuum, principles for mental preparation and other 'mental' aspects, followed by hands-on, on the mat, practice.  Scenario training is used to insert the trainee in stressful situations developed from real-world law enforcement encounters, which give the trainee the opportunity to use the mental exercises, de-escalation tactics and physical restraint techniques.  There are several modules that will be offered this year including basic, advanced and defense against edged weapons. The modules are generally 16-hours of training. An abbreviated introductory module of eight hours can be provided for POST. We have had good results in providing this module to a local law enforcement department, with many of the officers using the techniques successfully within days (in a few cases hours or even minutes!) of the training.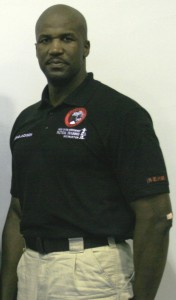 Our chief tactical instructor, Lewis Jackson, is certified by the Aikido for Law Enforcement Tactical Training organization under Richard Price, a Law Enforcement professional and fifth-degree black belt in Aikido, practicing in Kure Beach, North Carolina. Lewis is a Law Enforcement professional, bringing over twenty years of practicing Aikido "on the streets", as well as a third-degree black belt in traditional Aikido.
Please contact Galveston Aikikai Tactical LLC at our email or by phone at 281-786-0293 for course information, and how we can provide the training to your department or you as an individual can find a class.

As our motto says "Gentle on the outside. Tough on the inside."